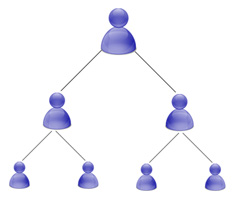 MLM Binary Plan is a multilevel marketing compensation plan which allows distributors to have only two front-line distributors. If a distributor sponsors more than two distributors, the excess are placed at levels below the sponsoring distributors front-line. This "Spillover Binary Plan" is one of the most attractive features to new distributors since they need only sponsor two distributors to participate in the compensation plan.
The primary limitation is that distributors must "balance" their two down line legs to receive commissions. Balancing legs typically requires that the number of sales from one down line leg constitute no more than a specified percentage of the distributor's total sales.
Binary MLM Software Main Features
1. Announcement.
2. News Updation.
3. Change Password.
9. Write a Mail Members.
1. Company Announcement.
2. Welcome Page.